My husband and I linger on the Ponte Vecchio at dusk. The tourists who dominated the medieval structure during the day have moved on to taking selfies elsewhere. We are free to gaze westward in the direction of the sun-lit Ponte alle Grazie.
The bridge on which we embrace is the oldest in Firenze and the only one spared from the destruction of the Germans during World War II. Although a series of several bridges existed previously on this site, the current design dates back to 1345. On our evening
passeggita
, we tread on
stone
that has borne witness to centuries of Florentine mysteries.
The secret passageway above our heads forms part of the Vasari Corridor which also runs through the nearby Uffizi. I imagine Duke Cosimo I de' Medici, who commissioned the route's installation, admired the Arno through the passage's east-facing windows. Did he reflect on the memories he shared with his first wife as he traveled between the Palazzo Vecchio and the Palazzo Pitti? Although Eleonora di Toledo was born in Spain, she embraced Firenze and her active role as consort. As the first lady of Firenze, she supported many causes including the arts and the establishment of churches. She also took an interest in increasing the profits of the Medici estates. Cosimo left the woman that bore him eleven children in charge as regent during his absences. Eleonora died before the corridor came into existence, but I wonder if Cosimo was reminded of her most while standing at the center of their city.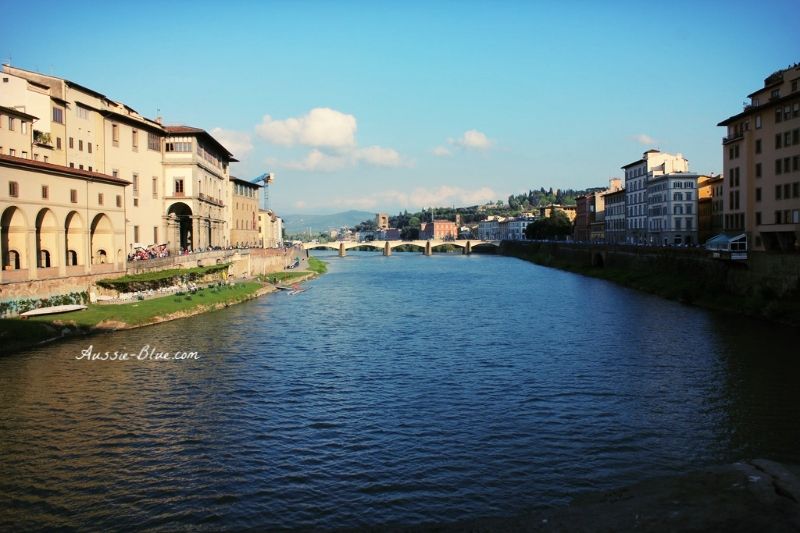 The view
westward
from the Ponte Vecchio
M.J.C.