Our two-hour journey on the Eurostar from London St. Pancras to Paris brought us to Gare du Nord in the tenth arrondissement. A.C. and I walked through litter-strewn streets and past graffiti-covered storefronts to the elevated platform of Barbès - Rochechouart station. We were two of many travelers anticipating the trip west on the metro line 2. I wanted to escape the less than satisfactory picture of Paris that had initially been presented and meld into a scene of grand boulevards. I felt fortunate, like a survivor of the Titanic on the last lifeboat, to board the train. The stops climbed in number, and we exited at the tenth, emerging from the underground Étoile metro station in the shadow of the Arc de Triomphe. My arms stretched to the sky, and my legs propelled my body upward. The arch stands at the center of a roundabout, the

Place de l'Étoile

. Twelve streets branch from the stone structure like cosmic rays of light. The traffic swirls rapidly in a continuous orbit. The symbol of French patriotism is inscribed with the names of generals from the Napoleonic Wars. While I did not see my name up there, I claimed it as a token of our successful journey to the 8th arrondissement, the neighborhood we would call home.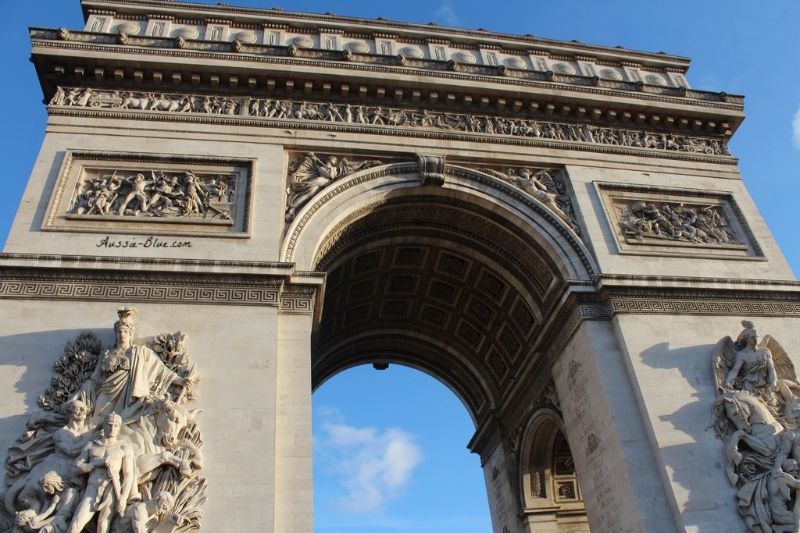 L'arc de triomphe de l'Étoile
M.J.C.