The walls, an antique shade of pine, are covered with vintage and fresh clippings from notable publications such as the Daily News, Town and Country, and GQ. They proclaim the entrepreneurship and values upon which Vito S. Rocco established his shoe repair shop in 1932. When Rocco emigrated from Acettura, Italy, he joined an abundance of New York cobblers in their trade. Although Jim's Shoe Repair moved to its current address of 50 E. 59th Street in 1940, remnants of the original establishment mix with contemporary mementos in its interior. Rocco's three sons, Giulio, John, and Joseph, ensured the survival of the business after their father died in 1964. A 1970 ad for black Tisfine shoe ink, featuring John and Joseph, pays tribute to the duo who directed the shop after the death of their eldest brother. Although Joseph, in his 80s, is now the sole ambassador for the second generation, the third and fourth generations also make a statement on the east wall. A photograph of Joseph Rocco Jr. and Steven Spielberg attests to Jim's reputation for quality and its position as a beloved icon between Bergdorf Goodman and the Queensboro Bridge. A grade school poem titled A Grandfather's Values by Sarah Huffman, daughter of the younger Joseph, pays tribute to her dear "Pappa."
I observe the constant customer traffic from the comfort of my leather seat in one of the six historic, private booths along the east wall. I rest my bare feet on the matching leather footstool. The familial warmth, emanating from the bustling Rocco's behind the counter, beckons me to stay the afternoon. The comfort of the narrow space and the accompanying smell of leather and shoe polish reaffirm my adoration for this city gem. If I ever moved to a distant state, unable to personally bring my shoes across the threshold, I would mail them. For, here shoes are showered with craftsmanship, soaked in polish, and wrapped in Italian American legacy before returning to their owners.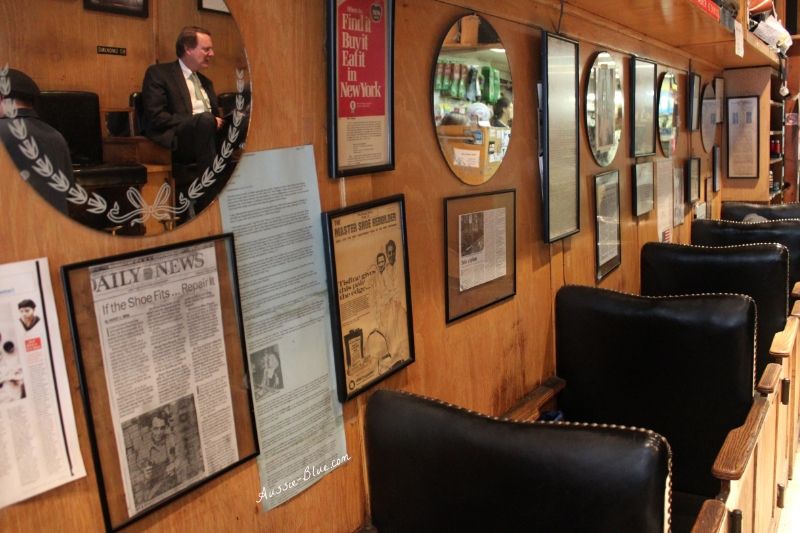 Bibliography:
Nicollette Barsamian
,
Heather Holland
,
The Rocco's
.
M.J.W.