I am most productive as a reader and writer when working amidst the perfect decibel of white noise. The soothing sound must be familiar, constant, and consistent. Sounds of the city, like the noise of traffic through the windows of a high-rise, are calming.
The source of the finest white noise I ever had the pleasure of hearing was an industrial-sized air conditioning unit of an office building. I found refuge at an al fresco table of the adjacent café. As the sun's rays permeated the table umbrella, I was submerged in a warm, marigold glow.
I don't recall what book took up residence in my purse at the time, but the manner in which I swept each page has remained a pleasant reflection. I plummeted into the world of the book without hesitation or distraction. The novel moved along at the pace of its movie version but retained the full breadth of the author's words. As I arose from the white, iron, perforated chair, I felt a sense of accomplishment at my progress.
Never have I found white noise more superior than the tone of that massive air conditioning unit. The search for white noise is a never-ending undertaking, but necessary for meeting my literary goals.
The flagship branch of the New York Library is iconic, lively and located on Fifth Avenue. After carefully surveying the white marble, gold gilding, and Corinthian columns, I take notice of the sounds of the elaborate house. The swinging keys of the security guards and Italian-made shoes hitting the marble floor accompany my reading of The Beautiful and Damned.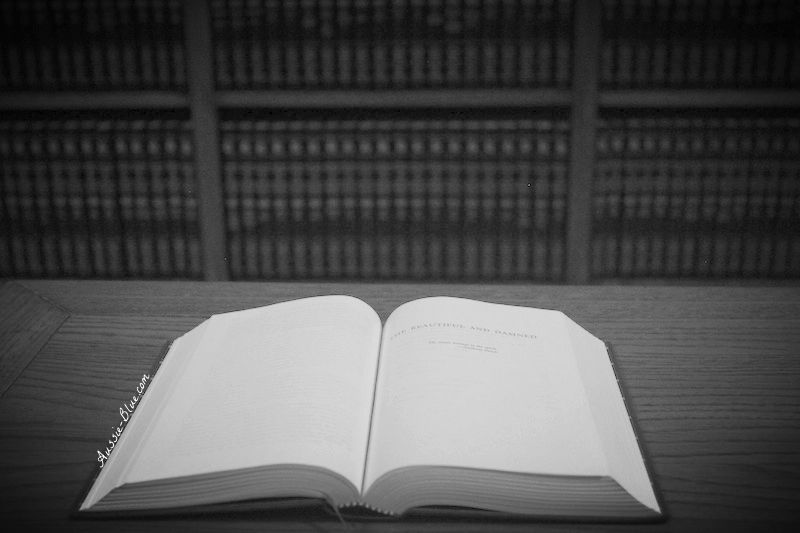 M.J.W.