The interior, body, insole and sole of the ballet flat should be made of leather. It is acceptable to have some sort of cotton lining over the leathered interior. The height of the heel should be between 1-1.6 cm. Combined with the height of the insole, your heel should rise approximately 2 cm from the ground. Cheap ballets, consisting of man-made materials, tend to be very flat and offer no support. Quality is at the heart of selecting a pair of classic balle
t
s (or any shoe for that matter). And no, your ballet flats should not bend in half.

Once you have selected your classic ballet flat, it is time to pay a visit to your cobbler. You need to ask him to place taps on the heels. These may be made of either plastic or metal. They are hammered into the upper right area of the right heel and upper left area of the left heel. This protects the heel from rapid wear. Bid goodbye to your cobbler. You will be visiting him again.

If your ballets do not come with an adjustable and/or self-tie string, you may proceed to step 4. If the loose string on your shoes is meant to be self-tied, step 3 is crucial.
a) Turn your ballets, toe box is facing towards you.
b) Begin by crossing right string over left string, with a pull, to make a knot.
c) Then make two loops (a.k.a. bunny ears).

d) Cross the right loop in front of the left loop.

e) The left loop then goes over the right and through the middle hole. Pause - do not tighten the knot just yet.

f) The right loop then goes to the back of the hole and through to the middle. Now you may pull on the knot to tighten.

g) Arrange the tails of your bow.

For visual instructions with sub-steps d-f please view

The Ultimate Knot

.
Step 4: The Initiation Outing
After tying your perfect ballet bows, get ready to take them outside for a stroll. The socks you wear with your flats should not show, unless they are a deliberate component to your look. You may have to shop around until you find an ideal pair of no-show socks. But keep in mind, the perfect socks for your perfect flats do exist. Take a stroll down the pavement, steering clear of gravel. You are preparing your soles for step 5 and need them to be a little worn, but by no means punctured. This step could have been completed manually by the cobbler, but I take pride in doing it myself. Once you have scuffed up the soles of your shoes, you need to revisit your cobbler.
Ask your cobbler to apply a thin rubber sole to your flats. In the past, I have requested oval shaped anti-slip pads. But recently, I have decided on the superiority of the thin rubber sole, due to its durable nature. The rubber sole protects your ballets from puncture, preparing them for outings in the city.
Once you have completed the ballet flat acquiring process, it is time to live and relish the imperfections of life. It is time to sing and dance like no one is watching...read, write and speak like you have a sense of self...be yourself... make a mark on this world, your way...never compare yourself to others...be chic in your own right.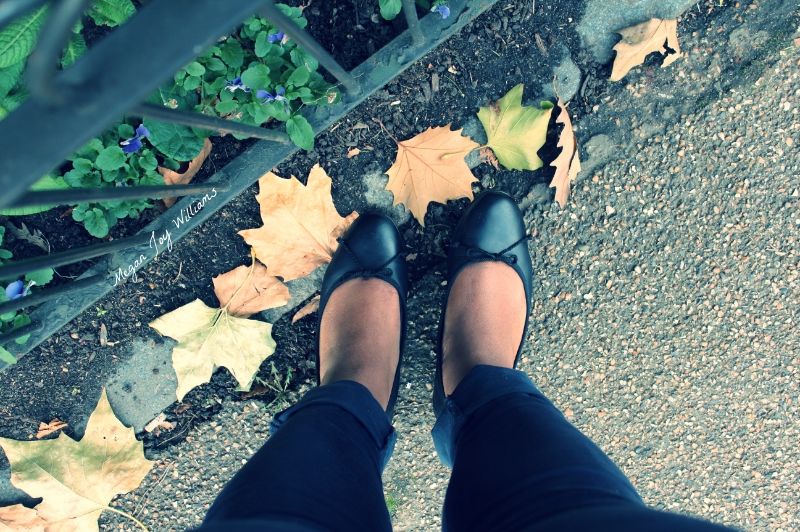 M.J.W.